Glamping - The rise of a popular travel trend
Posted by Hartenbos Private Game Lodge on Thu January 13, 2022 in
Travel Tips
.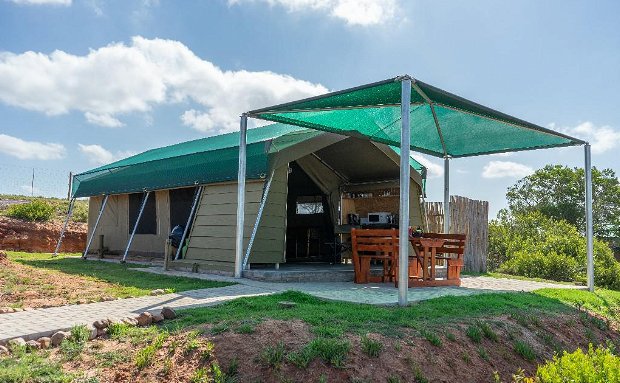 So what exactly is Glamping and where did the trend originate from?
Let's dive into the world of glamour camping and why this unique accommodation experience is now booming!
Like the name suggests it is a combination of Glamorous and Camping. Some even call it Glorious Camping, Boutique Camping or Luxury Camping. It has become a very popular travel trend Internationally that can be described as the perfect "marriage" between luxury and nature. Instead of a night on the ground in a sleeping bag, you can opt for unique accommodation, such as a luxury tent, equipped with all the comforts of home.
The word has only been around since 2007, but dates back to more than one thousand years to the Native Indian tribes from America, living in Teepee's. 
The yurt — Nomadic tribes and Huns warriors lived in yurts, dating back roughly 600 BCE, which are circular tents that provide protection from strong winds. The portability of yurts allowed tribes to move when needed with their herds, about 4 times a year or more. The structures could be quickly setup and the lightweight material was ideal for transporting.
Some Mongolians live in yurts today, although modernized yurts with wood frames tend to be relatively permanent, unlike traditional yurts. Across the world, modern yurts offer eco-friendly living and tourism solutions.
The History and evolution of Glamping:
Although the real origins of glamping is still unclear, it is believed that In Scotland, John Stewart, 3rd Earl of Atholl, put together what could be called the first luxury camping site in the U.K. for King James V and his mother in the Scottish Highlands—filling the tents' interiors with luxurious furnishings and adornments from his own palace.
Back in Europe, The Field Of The Cloth Of Gold was the site of a three-week diplomatic summit in northern France held for King Henry VIII of England and King Francis I of France, with the goal of fostering friendship between the royals and an alliance of the two countries. The site was named after the extravagant décor used to outfit the summit's tents and became a display of the young kings' wealth and power. The kings dined on lavish feasts, hosted jousting tournaments, and the grounds included red wine fountains. In true Renaissance fashion, the summit was not merely a meeting for diplomacy, but rather a spectacle of grandeur.
Then it is also said that the Turkish Ottomans would set up extravagant tent cities as a mobile palace for the sultan. These luxurious tents were complete with silk fabrics, embroidery, expensive rugs and furnishings*.
Fast forwarding to the early 20th Century, President Theodore Roosevelt ventured into the great outdoors for a widely publicized camping trip in 1903 with conservationist John Muir in Yosemite. The trip both sparked the conservation movement and popularized the appeals of camping - restoration, escapism, and recreation.
Shortly after, African safaris became the popular adventure of choice for wealthy American and British travelers. Often, these trips were made for society's upper crust to try their hand at shooting game, largely the "Big 5," i.e., lions, leopards, rhinoceroses, elephants, and Cape buffaloes.
Despite their desire to get down and dirty and go hunting, these travelers were not willing to sacrifice the comforts of home for the thrill of the hunt—which meant the safari tents they stayed in were well-equipped with the luxuries they were accustomed to, including everything from electric generators, to folding baths, and cases of champagne.
Glamping in the 21st Century:
Back in 2007, when, according to Google Trends, people began searching for the word "glamping," with most of these searches coming from Ireland and the U.K. By 2010, glamping began to take off; by 2013, it had seen a major rise in popularity in the U.K.; by 2014, it started to make a name for itself in the U.S.; and by 2016, "glamping" was officially added to the dictionary.
Today, glamping is more popular than ever and on a global scale. Glamping bridges the raw beauty of the great outdoors with the luxury of modern amenities and hospitality - a form of escapism travelers have sought for centuries. Spacious safari tents immersed in the wild and furnished with the comforts of home, like plush beds to sleep soundly, take the 'rough' out of roughing it. The unexpected combination of "rugged luxury" connects glampers with nature in the most comfortable way possible. 
Baby boomers and millennials are looking for a change in the way they typically travel, and glamping fits well for both—baby boomers, because they have a disposable income, are looking for comfort, and they've already done it all; millennials, because they're always looking for unique experiences.
Although traditional glamping is typically done in canvas tents or yurts, the term has evolved to include pull-behind campers, teardrop campers, tepees, gypsy wagons, tree houses and log cabins. Essentially, it's any semi-permanent structure that allows you to sleep outside with features beyond that of a simple tent.
If you enjoy the great outdoors and camping, but your partner does not take kindly to backpacking, sleeping bags, bugs and no "facilities," then glamorous camping may be an answer for you.
Hartenbos Private Game Lodge offers the most idyllic glamping experiences where you will find luxury double and family glamping tents where you can relax, unwind and get immerged in nature with modern living facilities. Book your Garden Route glamping experience with us today! 
Reasons to choose glamping over normal camping:
You still get to enjoy nature in all it's glory with the same camping "feel"- Just more comfortable.
No need to travel with your own tent or heavy equipment.
Modern food preparation facilities.
Keep the lights on with electricity provided.
Get connected with free Wi-Fi.
Sleep on a comfortable bed - no more sleeping bags or inflatable mattresses.
Enjoy en-suite bathroom facilities
Enjoy braai facilities as you would a cozy campfire.