Family Glamping Tents

Glamour camping accommodation suitable for 4
Luxury Family (Glamping) Tents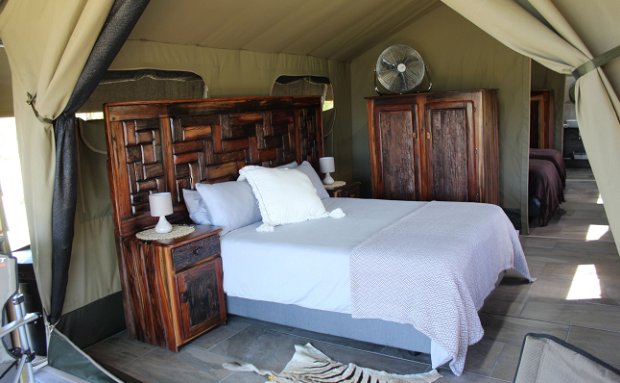 Each Luxury Family Tent can accommodate a maximum of 4 guests in two separate sleeping areas - 1 with Queen size bed and the other with 2 single beds with an en-suite bathroom with walk-in shower and a bath.
Glamping has become one of the most unique accommodation experiences.
What is Glamping?
Glamour combined with camping - Luxury tents with added amenities and comforts of home.
The kitchenette is fully equipped with microwave, and fridge, a fan, and heater. Coffee & Tea, Towels and toiletries provided. The tents have breath-taking Mountain views of this South Cape Game Farm and a private deck.
Details
Sleeps: 4
Number of Units: 2
Size: 40
Amenities
Sleep area 1: Queen Size Bed

Sleep area 2: 2 X Single Beds

En-suite bathroom with bath & shower

Kitchenette Facilities (Gas Cooking)

Fridge, Microwave, Cutlery & Crockery

Coffee/Tea Facilities

Braai Facilities

Patio with beautiful natural surrounding views
Share This Page
Guest Reviews
As a Mom of three, we always need to take into consideration, if this would be a "child friendly choice?" Never in my life, did I think this experience would be THIS remarkable!!! Friendly staff, super neat, clean, proffesional and unbelievably rememberable!! Surrounded by views, for days .... we have had more than just "a pleasant stay!!" I will save these memories in my heart, forever! Thank you Alida,... Read More

- Mr & Mrs Klotz

South Africa

Alida en Wayne het ons absoluut weggeblaas met hul enorme gasvryheid! Nie net was die kos uit die boonste rakke gewees nie, maar die verblyf was smaakvol en gemaklik. Geen moeite is gespaar nie. Die wildrit was fantasties, met versnaperinge en drinkgoed langs die pad. Ons sal beslis weer hier 'n draai kom maak met ons hele gesin! Baie dankie Alida en Wayne vir 'n huweliksherdenking wat ons beslis... Read More

- Danielle

South Africa

Thanks for your hospitality. So friendly. It felt like home. I will definitely recommend you guys. Tents are beautiful equipped and clean. Thanks for the staff friendliness.- Travelground

- Paul

South Africa

This private game lodge is absolutely fantastic. The view over the mountains are spectacular and the wild life is really beautiful. The hospitality of the owners made our stay so much more pleasurable and we can't wait for our next return to stay here.- Booking.com

- Johan

South Africa

The accommodation is amazing. The views and trail paths are fantastic. So much to see with all the game roaming around close by.- Booking.com

- Nicolas

South Africa

Alida and here entire team are SUPER HOST'S. We really enjoyed every second of our stay. The accommodation was well equipped and clean (daily serviced). Everything on the property and all the extras were bonuses to our stay!!! Excellent Breakfast and Dinner. Best Game Drive with stunning wildlife!!!! We will definitely visit you again!!!!!! Thank You.- Booking.com

- Lizelle Van der Westhuizen

South Africa

This was one of our best finds ever. Lovely accommodation! The cottages were neat, modern and very comfortable. There was even a pair of binoculars to use! The views are beautiful. Various animals roaming around, including giraffes and lots of buck. We had a lovely dinner as well a breakfast, prepared by a young chef and presented by a lovely lady. She also took us on a wild drive... Read More

- Hilly

South Africa

Exceptional-very good presented and out of the book. Fresh and well prepared food.- Booking.com

- Marinda

South Africa

Beautiful lodge, family suite was ideal for a family with 2 children, very quiet, informal and delicious food. We saw giraffes, zebras and various other antelope species.- Booking.com

- Herwart

Germany

Enjoyed the exceptional food well prepared by the chef. The guide/receptionist also made it a memorable trip.- Booking.com

- Loriza Botes

South Africa

We were in a tent with a wonderful view. We could already see zebras from the tent. The tent was super luxurious and the staff were always very helpful.- Booking.com

- Bernd

Germany

Amazing place, hosted by a family who could not have been more helpful. Effectively a bespoke visit for us, flexible and understanding, had time for lots of questions from our children! Food brilliant and plentiful as was the wine and beer. Great company and time. Could not recommend more highly - a must stay.

- Michelle

UK

What can I say.... it is just great.... the warm welcome, the nice family running the lodge, the excellent food, the nice room with sun-rise view from bed, the nice game drive with the owner.... the fun making Quart ride.... you need to go there!

- Frank

Germany

We loved our stay at Hartenbos Game Lodge. Beautiful setting, very relaxing. We loved the outdoor experience and enjoyed our hike and bicycle ride. The highlight for all of us was the quad bike game drive. The owners are very friendly and helpful. Well situated to visit Mossel Bay for a day trip.

- Sandy

South Africa

Our stay at Hartenbos Private Game Lodge was lovely! Even if we weren't lucky with the weather, we totally enjoyed our stay there. The tents are very cosy and luxurious. They are equipped with everything you need and even more. The views are beautiful and the owners are very friendly and hospitable. The quad tour was so much fun and we had the chance to see zebras, springboks, buffalos... Read More

- Lauri

Germany

This Lodge is great located....like a hideaway... outstanding view, and walkways in the area.. friendly helpful owners with a perfect attitude to welcome guests and feel welcome... during the whole stay... also the possibility to see the Animals in that Lodge around was great...... the Location Main Building and the Luxury Tents were nothing just perfect.. Food Breakfast, Dinner, Selection of Drinks as well as perfect.. We will definitely... Read More

- Thomas

Germany

We had our Daughter and family out from the UK and wanted something different for our overnight stay down the Garden Route. Well, certainly does not get much different than this.Way off the beaten track but arriving was like finding an oasis in the bush. Grounds beautifully laid out and our suite was top notch and well equipped.Lovely views from our stoep and saw lots of game.Unfortunately we did... Read More

- Stephen

South Africa

The lodges are superbly comfortable and in an outstanding locationWe also viewed the tents ( if you could call anything of such quality at tent)and they were great too.The ethos of this place is beyond anything you could come to expect from a game reserve. They passionately care about the animals and also their guestsAlida and Wayne have such enthusiasm about their work and really want to make their... Read More

- Anthony

Spain

Not only are the hosts, Alida and Wayne, absolute gems, but they are fantastic hosts! They go above and beyond to cater to your every need. The Game drive was an absolute pleasure, with drinks and snacks along the way. We opted for the self catering option, but after experiencing the food, we stuck to their carefully catered menu. Everything, from starters to Dessert was delicious! Thank you so... Read More

- Danielle

South Africa

This private game lodge is absolutely fantastic. The view over the mountains are spectacular and the wild life is really beautiful. The hospitality of the owners made our stay so much more pleasurable and we can't wait for our next return to stay here.

- Johan

South Africa

It was an amazing experience. Lovely stay in the well equipped luxury tent. The breakfast and the 3 course meal were excellent. The game viewing was the highlight. We saw a lot of wildlife. Our friendly guides also provided a lot of interesting information. Thank you again for your kindness. We immediately felt at home.

- Hannelien

South Africa

Birding outing. Stayed over in tented accommodation. Really good value for money, good food, good service. Quiet, clean and well run. Perfect for a relaxing breakaway. Plenty of small game.

- Elizabeth

South Africa

We had an amazing experience on our 4 days stay. 2 nights in luxury tent and 2 nights in luxury villa. Both great experiences. Amazing view from the tent and the villa to the animals. Very friendly owners and helpful.

- Eveline

South Africa

We had an amazing experience. 2 nights in luxury tent and 2 nights in luxury villa. Both great experiences. Amazing owners, friendly, helpful, knowlagable. Did quad bikes, safaris and hiking trails. Lovely walks amongst the giraffes, zebras and many different bokkies. Will recommend and hopefully come again.

- Margrit

South Africa

Amazing experience!We had a lovely ride through the wild park with a picnic ready packed when we arrived at the top overlooking the park in all its beauty. Very Friendly and welcoming owners, when we arrived we immediately felt comfortable!We would Highly recommend!

- Andrea

South Africa

Personal, family and professional care and accommodation was excellent.We were received cordially and the game drive tour with both the quad and private drive.You get a great landscape and many different animals.We can only recommend this accommodation.

- Camper

Germany

Cant wait to go back! Villa had everything we need and more... Breakfast and dinner to die for! Very friendly owners and staff !!!! Easy drive from mosselbay! Looooove the area and wild life...

- Yvette

South Africa

We had an amazing experience for our Anniversary. Alida is a great host and attended to all our needs. Food is delicious. The tents are equipped with everything you need. Views are amazing with lots of game to see. We enjoyed our 6km walk through the farm where we encountered a variety of buck and giraffe! We will definitely be back and would advise anyone looking for a blissful... Read More

- Dylan

South Africa

The rooms are very luxurious for a game lodge and with breathtaking views of the surroundings and often its animals! The wildlife viewing very beautiful and you can walk for hours on the amazing fynbos clad hills totally by yourself and experience giraf, zebra, wildebeest and lots of antelopes. The owners are some of the most friendly and helpful hosts we have ever stayed with and they truly made... Read More

- Soren

Denmark

We stayed 3 nights here, and had the most wonderful time. The Lodge is simply beautiful, and just relaxing on the verandah watching the animals was a joy.The bedrooms are in a separate building just a few metres from the main Lodge, and are also comfortable and beautifully decorated.The owners and hosts were very friendly and helpful and always available.We had a delicious dinner each evening, and breakfast was... Read More

- Janie

Scotland

We just loved this. Host and hostess warm and accommodating, beautiful lodge, beautiful sunsets, lovely room, woke up with animals standing around which made great photos. Our room had a lovely bed with an electric blanket and comfortable bedding. Had tea, snacks, water and toiletries. Lovely large bathroom and maid service. We had a shared living room and kitchen with a couple we traveled with. They loved their room... Read More

- Laurie

Michigan

We arrived as a small group of 4 and occupied one of the cottages close to the lodge which turned out to be one of the highlights of our 5 1/2 week stay in South Africa.We were ably assisted by the family to make this stay truly memorable.Everyone concerned made our stay feel as if we'd been welcomed into the family. The breakfasts, dinners (including the braai's) were wholesome,... Read More

- Albongo

UK

We didn't really know what to expect when we took a 30 minute drive on a dirt track to the Lodge's entrance. But it was worth it.We had the whole resort to ourselves and were really made to feel like part of the family.If you do go, make sure you take a drive with Wayne around the Lodge. He was great company, really loved the animals and was utterly... Read More

- Dan

South Africa

We stayed in one of the villas for a number of nights and everything was perfect! I think it is the ideal base to see the surrounding Hartenbos area and I would love to return! The food was excellent, the swimming pool overlooks where the animals graze and the villas are luxury! The hosts love and care for the animals really well and will be able to answer all... Read More

- Christoff

South Africa

This is far enough from town to experience tranquillity and also close enough to town to get much needed supplies.What i found special about this lodge is the fact that it`s not over crowded like other lodges and one has privacy and quiet and the bonus is the solar heated plunge pool and outdoor Jacuzzi for all the guests to use.Service is excellent, the food is awesome and the... Read More

- Avid Traveller

South Africa

What a wonderful weekend (8-10 November 2019) we spent at Hartenbos Private Game Lodge. 26 of our very special friends celebrated at Hartenbos with us and it was soooo amazing. Beginning with the organizing of the weekend and then the weekend itself. Alida and her family and staff could not have done anything better The accommodation was excellent and the food was outstanding. Would highly recommend this lovely Game... Read More

- Jeffrey

South Africa

Beautiful place with super gracious hosts in Wayne and Alida. Wayne is truly fantastic in his knowledge of the game reserve and the various animals here at the lodge. Wayne and Alida went out of their way to accommodate our extremely different food tastes (being Indian and all) and pulled off perhaps the best culinary experience of our entire tour here in South Africa! Truly recommend everyone to definitely... Read More

- Ankit

India

I loved the whole experience. The owner and staff were very attentive. We loved the game drive, a real bush feel. The property was stunning. The food excellent.

- Anne

UK

My husband and I visited the private Game farm during our two week Garden Route holiday. Indescribable views. Game on your doorstep. We had a lively walk and game drive as well. Breakfast is also excellent prepared. The rooms are well equipped and beautiful.

- Annie

South Africa

We loved everything and all the staff. Leandra was great and we felt very spoiled and well treated. Breakfast was excellent and very tasty, More than enough. Will def return again.

- Mariancka

SA

Absolutely stunning! Love the owners, food, view everything! This is our new "IT" place.

- Cecilia

South Africa

e stayed in the luxury tents for 2 nights and can highly recommend it. Such a beautiful place with excellent service, great food and friendly staff.

- Chris

South Africa

A magical place with hosts that make it extra special, I would love to visit again if I get the chance.

- Eoghan

South Africa

The location, view and friendliness of staff. Meals were excellent and the housekeeping good. Activities and guided tours by staff members were superb.

- Theo

South Africa

An incredible experience. Luxury accommodation, very friendly people and excellent service. Incredible scenery and lots of wildlife. MUST visit Game Lodge.

- Dries

South Africa

Amazing place, wonderful view and game. 100% renovated, staff and owners extremely friendly and helpful. A paradise for nature lovers

- Fabien

France

The accommodation is amazing. The views and trail paths are fantastic. So much to see with all the game roaming around close by.

- Nicolas

South Africa

Great with kids, quiet, spotting zebras from the deck with a beer at hand, delicious food, everything well.

- Ulf

Germany