Explore Iconic Mossel Bay
Things to do in Mossel Bay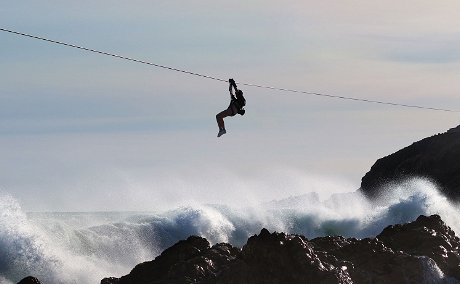 Mossel Bay Zipline
Welcome to Mossel Bay Zipline – the longest over-the-ocean zip line in the world! Seriously. We checked. Spanning approximately 1100 meters in length (and reaching up to 90km/h*), our zip line lets you glide over the bay for an adrenaline-fuelled experience.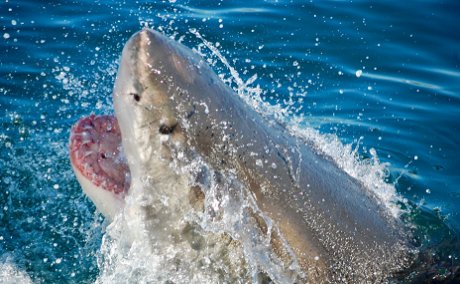 White Shark Africa
Mossel Bay is a very rich area with its abundant sea life of diverse fish, seals, whales, penguins, other sea birds, dolphins, the occasional orca and, of course, a plentiful supply of Great White Sharks. For this reason we decided to base our shark cage diving headquarters on the Garden Route of South Africa.Great White Sharks have always fascinated humans. Perhaps it is their imposing size, their graceful beauty perfectly adapted to their environment, patrolling our oceans since the beginning of time…
If you would like to come just that little bit closer, to experience the Great White Shark in its natural environment above or under water or perhaps just learn a bit more about them. You have come to the right place.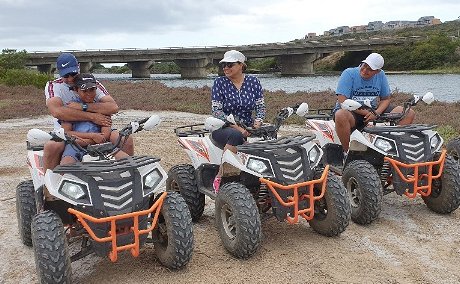 Mossel Bay Quad Biking
Experience an unforgettable quad biking adventure with a guided tour around our 5, 7 or 10km track. For your convenience, all our quads have an electric start and equipped with automatic gearboxes. There is no shifting, except if you need to go in reverse. We will provide you with detailed driving instructions.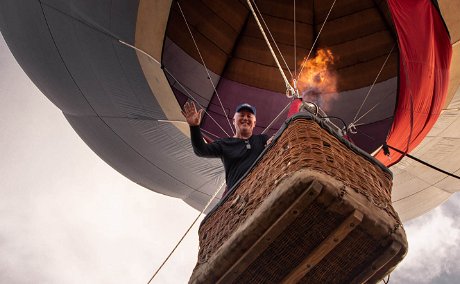 Nova Hot Air Ballooning
A flight in a Hot Air Balloon is like nothing else you've ever experienced. No other form of flying comes anywhere close to its calm, serene nature. Experience the quiet stillness of the morning sunrise whilst soaring among bird and cloud alike. This truly is what dreams are made of.Join NOVA Hot Air Balloons, the first of its kind on the Garden Route.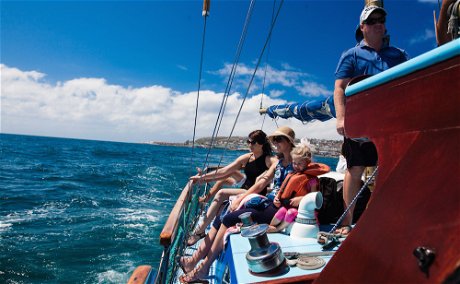 Romonza Boat Trips
Romonza Boat Trips have been operating for more than 25 years in Mossel Bay. Romonza offers Seal Island trips (all year round). Sunset cruises (November to April) and boat-based whale watching with a permit (July to October). Fully qualified tourist guides on all our boat trips.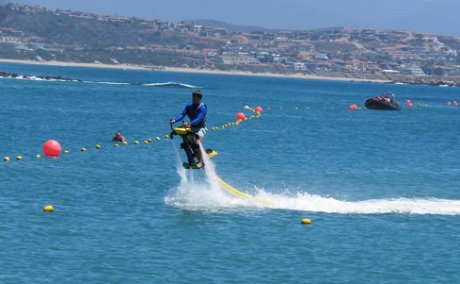 Jetovator
Jetovator - Fly above the water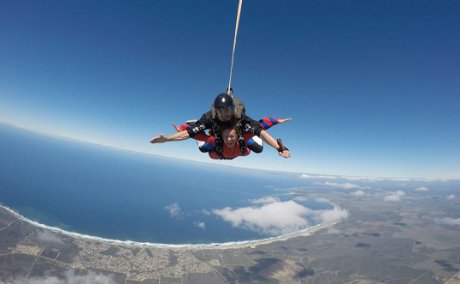 Skydiving
Tandem Skydiving in Mossel Bay, South Africa is an experience that will stay with you for a lifetime! Not only will you enjoy all of the thrill and excitement of freefalling on your very first jump, but you'll also be taking an exhilarating scenic flight over the Mossel Bay area with an eagle-eye view of the Indian Ocean, the Outeniqua Mountains, and the beautiful beaches between Cape Town and Port Elizabeth! It's the most scenic place to go tandem skydiving in the Western Cape, along the Garden Route, and near Cape Town.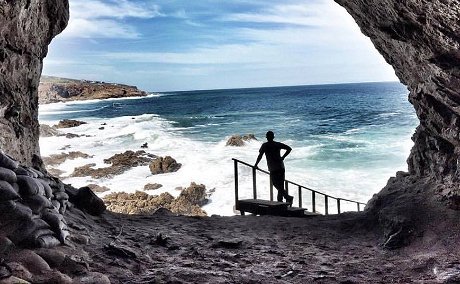 Point of Human Origins
Experience a guided tour from Bokmakierie Guest House
Visit the first "Self Catering" caves of 164 000 years ago between Dana Bay and Mossel Bay. Experience the awe of standing at Point of Human Origins.
Visit world renowned archaeological site with early evidence for modern human behaviour.
Mossel Bay, South Africa. Our tour is a dual journey - one in space and time, and one within.
Our main goals are to create awareness of the original human design, to awaken the human spirit, and to inspire people to discover themselves and to change the way they behave towards all life on our planet.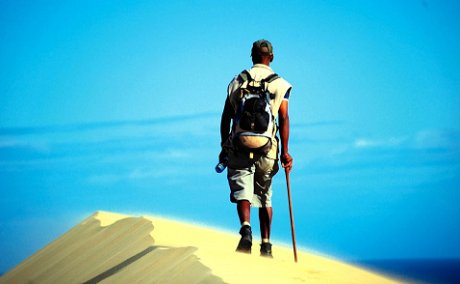 The Oystercatcher Trail
The St. Blaize Trail is a popular 13.5 km trail that follows the 30 meter contour along the cliffs westwards from the Cape St. Blaize Lighthouse and ends at Dana Bay. It begins at the Cave below the Lighthouse, and ends on the beach at Dana Bay (it can be run in either direction, or do an out & back run), and is clearly marked in white with the sign of the Oystercatcher, as it forms part of the greater Oystercatcher trail starting at the Gourits river mouth.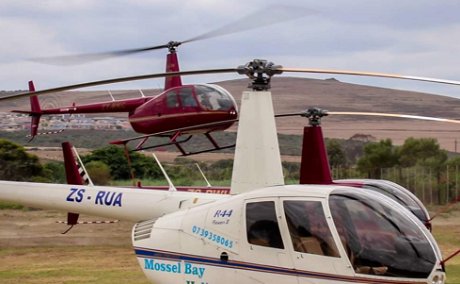 Mossel Bay Helicopters
At Mossel Bay Helicopters, we have flights and services to suit any budget. We offer services such as scenic tours, shark & whale viewing, mountain flying, game capturing & counting, cargo slinging, VIP charters, search & rescue, firefighting, filming & photography, as well as tailor made flights, and flights for special occasions. Mossel Bay Helicopters is recognised as the leading operator for game catching and game counting operations in the entire Cape region as far as the Free State. We are highly skilled and experienced with firefighting and are credited with saving in excess of a R100 million worth of property in recent firefighting missions. We have also played a critical role in many search and rescue mission.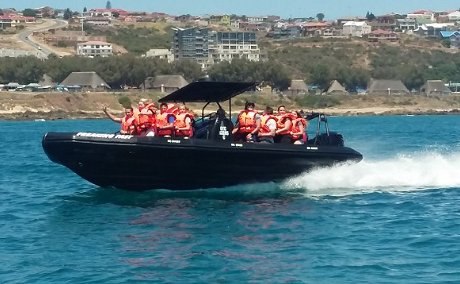 Freaking Fast Wave rider
(10-15 minutes) High adrenaline, high speed and wave jumping boat trip that can accommodate up to 12 people from ages 10+. Departing from Mossel Bay Harbour Waterfront , the trip will take you around Seal Island at speeds that may exceed 120 KM/H (weather and sea conditions permitting).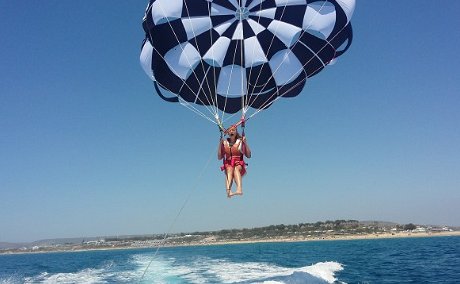 White Shark Parasailing
Shark-watching at its best on board our Luxury custom-built winch boat SENORITA. Weather conditions will determine area of operation within the bay. Trip can accommodate up to 10 people. Flights start and end on the boat (no swimming with the sharks)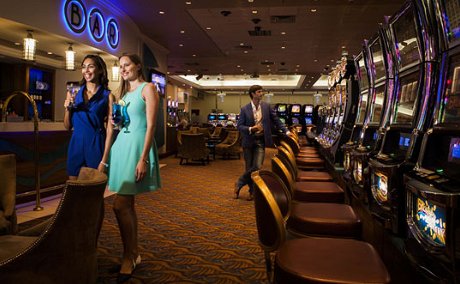 Garden Route Casino
Garden Route Casino is nestled within the beauty of the famed Garden Route in the Western Cape. You will find us on the spectacular Pinnacle Point, in the seaside town of Mossel Bay. If you're looking for fun and exciting things to do, or you just want to relax, come and live the life with us. Have some fun in our casino and enter our exciting promotions for the chance to win incredible prizes, or come and enjoy some of the top shows and events in Mossel Bay. You can have a delicious meal at the Bravo Lounge, where you can experience live entertainment as well. If you need to unwind, you can treat yourself at La Vita Spa. Whether you are on holiday, or a live in the area, there is plenty of family fun to be had when you come and escape with us. Licensed by the Western Cape Gambling & Racing Board - No persons under the age of 18 allowed in the Casino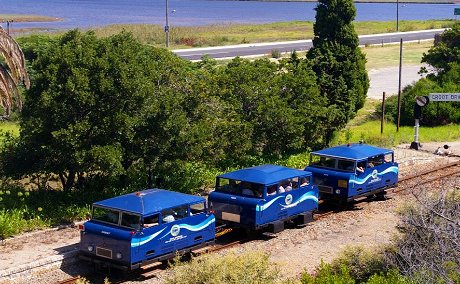 Diaz Express Rail Experience
All aboard the Diaz Express, a fun rail experience for the whole family run on the existing Transnet rail network in the Garden Route region of South Africa, between George and the seaside resort of Mossel Bay. Mossel Bay, a popular tourist destination, serves as the main point of departure with excursions to a variety of attractions including the ever popular Santos Beach, Great Brak River, Glentana and Maalgate.
All excursions have lovely views over the Indian Ocean (with a ringside seat for whale watching during the season), river estuaries and the indigenous plant life of the Cape Floral Kingdom.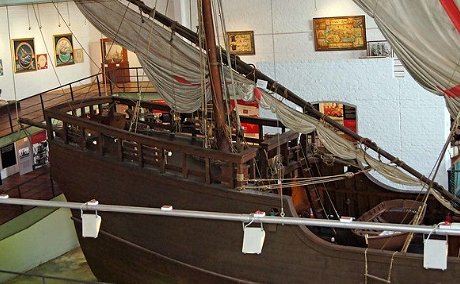 Diaz Museum
The Dias Museum Complex is situated near the beach, shops, restaurants, banks and the tourist information center. Inside the Maritime Museum is a shop where postcards, stamps, books, souvenirs and small gifts can be bought. On the grounds of the Dias Museum Complex are mountain tortoises, ducks and museum cat. In the Granary there are conference facilities available for 48 people or if used in cinema style, seating for up to 100 people. Catering can be arranged. Mail from the shoe is collected twice a day (once a day out of season) by the Post Office. Whales can be observed from the museum grounds during June to November.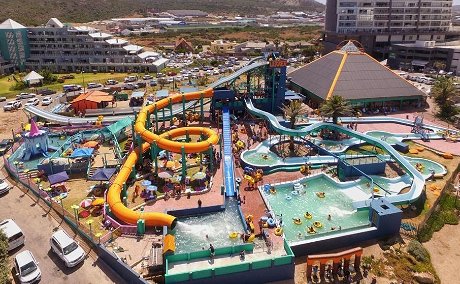 Diaz Waterpark
Diaz Water Park is a fantastic family attraction located at the Diaz Hotel. The water park has various super tubes as well as a heated pool, offering fun for all ages. Bring the whole family along for a day of fun in the sun. There are braai and picnic areas available for leisurely lunches.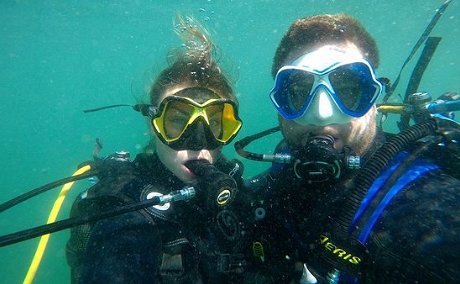 Electrodive Scuba
Mossel's Bay Premier Retail and Professional Scuba Diving Training Center and Dive Charters
Electrodive has been training Divers and Dive Professionals since 1985. Ken Walmsley founded the business 35 years ago and continues to drive a proud tradition of continuous improvement and excellence, a proven and unblemished track record for dive safety through education, high standards, without incident.